Thursday, March 16, 2023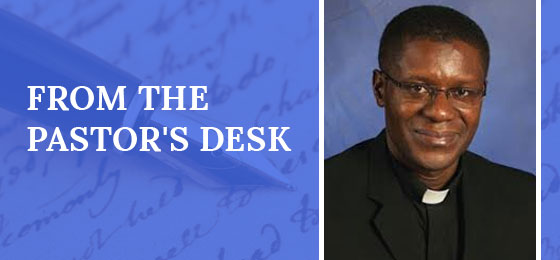 Dear family,
Pentecost Sunday
"As the Father has sent me, so I send you. Receive the Holy Spirit"
The brutal and shocking event of the Good Friday not only led the disciples into hiding for fear of the Jews, but brought doubt and sadness into their hearts like the disillusioned disciples on the road to Emmaus. However, while they were praying together in the Upper Room where Jesus had eaten the Last Supper with his apostles, Jesus came in their midst and breathed on them. As the gospel says: " On the evening of that first day of the week, when the doors were locked, where the disciples were, for fear of the Jews, Jesus came and stood in their midst and said to them, Peace be with you". The Holy Spirit overcomes fear. Being together in prayer prepared the hearts of the disciples to receive the Holy Spirit. Jesus said to them: "As the Father has sent me, so I send you. Receive the Holy Spirit." At Pentecost, when the Holy Spirit rested upon the disciples, those men emerged fearless and began to proclaim the Good News of the crucified and risen Christ to all. As Pope Benedict XVI wrote: "the Spirit of God put fear to flight."
The Holy Spirit is like a strong wind, it is like fire; it is the power of the Love of God. The Holy Spirit can transform timid individuals into zealous persons and witnesses of the Gospel. As the First reading says: "There appeared to them as of fire, which parted and came to rest on each one of them. And they were all filled with the Holy Spirit and began to speak in different tongues, as the Spirit enabled them to proclaim." By the outpouring of the Holy Spirit on the day of Pentecost, the Church remains in every age vivified and sanctified by Christ's presence. The Holy Spirit prepares us with his grace to draw us to Christ. He manifests the risen to us, opening our minds. He makes present the mystery of Christ. The Holy Spirit is the memory of the Father and the Son which dwells within our hearts.
Today, on this Pentecost Sunday, we hope and pray that you may experience the joy and peace of the Holy Spirit within your hearts because you have been journeying with the Lord like the disciples on the road to Emmaus. May your listening to the Word of God and your nourishment of the body and blood of Christ rekindle within your hearts the fire of the Holy Spirit. May this feast of Pentecost give you a new ardor and zeal to go and witness to the Good News of Jesus Christ.
Happy Pentecost Sunday!
Fr. Jean Jadotte