Thursday, May 19, 2022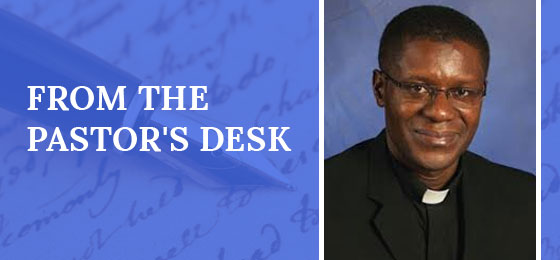 "Stay Awake, Be Prepared"
Dear family,
Advent comes from a Latin word "Adventus," which means coming. Advent is a time of waiting, longing, and begging. It is a time to pray, "Come, Lord Jesus." We look forward to celebrating the first coming of Jesus at Christmas. We also look forward with hope to the second coming of Jesus in his glory. We are getting ourselves ready to receive Jesus Christ who wants, even now, to be born in our hearts. As we begin a New Liturgical year with the First Sunday of Advent, we invited to get our house in order. As Christians, we are Advent people; we are always looking forward to the Second Coming of the Lord in his glory.
For this reason, we have to set our priorities straight. Our first reading from the prophet Isaiah describes how every nation streams toward God's holy mountain. As we enter the Advent season, let us think about this holy mountain. Is the mountain of the Lord higher than every other mountain in our lives? In other words, do we place the mountain of the Lord as the highest value of our lives? If it is so, all other elements or values of our lives must be ordered toward the highest value, the Highest Mountain. Do we stream toward it with our whole being? In this Sunday's gospel, Jesus tells us to stay awake, to be prepared. The unprepared people "in the days of Noah" were distracted by their "eating and drinking", oblivious to the imminent flood. In what does Advent preparation consists? Among others, Advent preparation consists in putting on the Lord Jesus Christ through faith; setting aside more time for prayer and silent meditations on the Word of God; going to daily and Sunday masses, receiving the sacrament of reconciliation, visiting the sick, offering our service and giving a gift to someone in need.
In the gospel of Luke, Jesus said to Zacchaeus, "come down quickly, for today I must stay at your house." The risen Lord wants to stay at your house this Advent. Are you ready to let him come and reside in your hearts. The Lord is coming now. He wants to be born in the heart of each one of us. Let us prepare the way of the Lord and pray: "Come, Lord Jesus."
Happy Advent!
Fr. Jean Jadotte