A century of faith: Muriel Conroy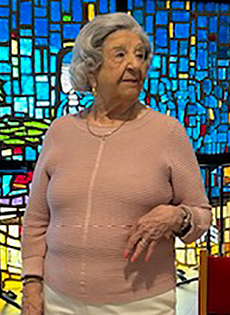 Muriel Conroy, a devout Catholic, celebrated her 100th birthday July 18. Her life journey is inextricably linked with the history of St. Pius X Church, where she has been a dedicated parishioner since its inception. She even had a hand in designing one of its stained-glass windows.
Archbishop Coleman F. Carroll established St. Pius X as a parish in 1959, just a few months after the Archdiocese of Miami came into existence. The permanent church was completed in December 1960, and Muriel was one of its original parishioners. She and her husband had relocated from Teaneck, New Jersey, in 1958, and their friends introduced them to the burgeoning faith community.
For a quarter of a century, Muriel has been a dedicated extraordinary minister of Communion at St. Pius X. Her unwavering commitment to the church has been a constant throughout her life. She said it provides her with a profound sense of comfort and a feeling of being spiritually embraced.
On July 16, 2023, the parish celebrated a special Mass in honor of Muriel's 100th birthday, acknowledging her enduring dedication to the faith community that has been her spiritual home for so long.
Read more on ADOM website
Mass Schedule
Day of the week
Time
Weekdays (Monday - Saturday)
8:30am
Saturday Vigil
4:30pm
Sunday Masses
8:00am
9:30am
11:00am
1st Friday: Healing Mass
11:00am
Confessions
Day of the week
Time
Saturday
3:00pm - 4:00pm
or by Appointment